Minehead welcomes dogs - as well as their owners!
Suggested Dog Walks

Culvercliffe Walk
Excercise your dog on a flat, grassy area located beyond the harbour.
The Parks Walk
Dogs are welcome on a lead. Walk through the town and follow the route alongside Bratton Stream.
Hopcott Woods (TA24 6DJ)
Walk up to Wootton Common (or park at Hopcott car park) and walk along the ridge to Dunster.
Scrub Land, Seaward Way
Opposite Tesco, just off Seaward Way is an area of open land with wild flowers and a pond.
North Hill
Rising above Minehead beyond the harbour, North Hill offers an endless variety of dog walks.
Beaches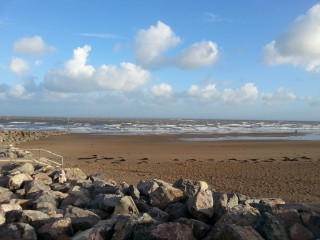 Minehead Beach
This is a designated swimming beach. Dogs are allowed on the beach from October to April. Between May and September dogs are restricted to the areas east of the golf course (towards Dunster) and west of the harbour (towards Porlock).
Dunster Beach
Dogs are allowed on this beach year round.
Please be a responsible dog owner and pick up after your dog; there are dog waste bins located throughout the town